5 Tips for Alberta's Spring Creeks
5 Tips for Alberta's Spring Creeks
It is spring time in Alberta! And ever since I first fished in south Central Alberta, that has meant one thing to me; Spring Creek Browns. And while this season, we had to wait, ever so impatiently, the ice is finally off all moving water and our spring creeks are good to go!
I was lucky enough to be able to get out to one of my favorite of these spring creeks a few days ago, and was greeted with fantastic fishing and a few nice Browns. As spring run off begins, these spring creeks are the perfect option for those who love small water. But before you go targeting these fish, there are some things you should know; or else you may leave frustrated and fish-less, wondering why anyone would put up with these unforgiving, temperamental streams. So keep reading for my 5 tips on how to solve these streams and have success this spring!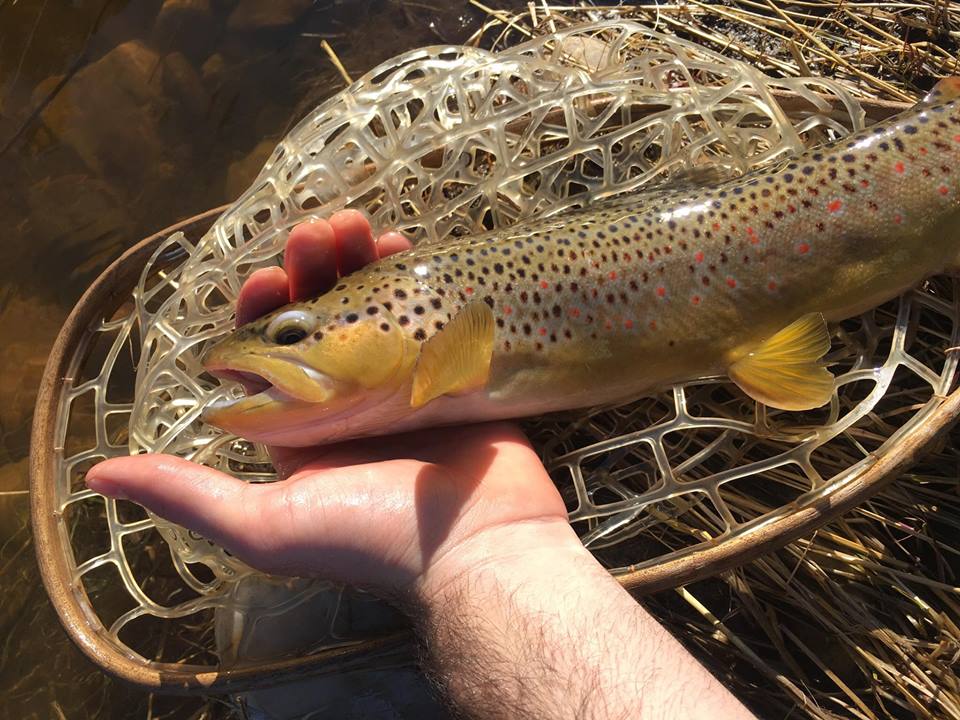 Spring Creeks in Alberta
Alberta is blessed with many great, spring fed streams all through the Central part of our province. For an overview on these streams and where to get started, visit the section of our site Spring Creeks . That will help point you in the right direction.
Here, we will talk tactics and gear, and how to deal with changing conditions.
Spring Creeks stay clear when mountain fed rivers are high and muddy. Some streams in this region are partially spring fed and partially mountain fed, so can be subject to some higher water. Creeks like the North and South Raven (Stauffer Creek), Dogpound and Prairie, are all true spring creeks and will be clear other than during times of heavy rain. Fallentimber Creek, Burnt Timber Creek, Little Red Deer River, are more prone to higher flows and muddy water, but are still primarily spring fed so the upper reaches do stay pretty clear. So do not be deterred by high water in larger rivers, as the Spring Creeks will usually still give you a great shot at fish.
So what do you need to do to catch fish? Here are 5 tips you must know!
 1) Fish good sections with good trout habitat and don't waste time with the rest
This one requires a little explanation. Because I have wasted countless time fishing slow deep pools, wondering where the hell the fish are. So the simple explanation I will give you is fish the slow deep pools, but only fish the ones that still have good trout habitat. These small creeks are known for having long sections of slow, flat water, and much of it is unnatural; it comes from land use problems and erosion that have compromised the rocky bottoms, undercut banks, and logjams, and replaced it with silty, muddy bottoms, and slumping, eroded banks. Skip stretches of creek that look like this, as from my experience, this is not where the trout are.
Find stretches of creek that have a rocky bottom. Overhanging trees, logjams, easy riffles. Then find the deepest pools in those sections. These are often the sections of creek that are near impossible to fish. But particularly early in the season, this is where the Browns will be. As the season progresses, they begin to spread out, but it is important to identify the good stuff so you don't waste time casting to nothing.
2) Streamers and large nymphs are best in the early Spring
In the spring, Browns are hungry. They complete their spawn and then immediately have to deal with winter. They are usually very aggressive and willing to eat any kind of big meal in the spring; small streamers (Brown Wooly Buggers, Olive Double Bunny, Minnows, ect) will work great. OR large nymphs (Stonefly, Bitch Creek, Large Prince nymph) with split shot to make sure to get near bottom. It should not take long for a brown to show himself, if present.
3) After Spring, be ready to Match the Hatch
Come mid-may/ early july, fish will have been exposed to fishing pressure, making them more wary. There will also be an assortment of hatching bugs, making them more selective. Have an assortment of Mayfly Patterns, small PMD's, Light Cahill, Green Drakes, Brown Drakes. Have the emerger equivalent to those flies, as sometimes a fish not willing to take a dry fly will take an emerger. Watch the water and try to identify what the hatch is, as it will greatly increase your chances, especially with large fish.
What do you do if there is no hatch, or you don't have the right fly?
The best solution to this problem is to prospect likely areas and nice banks with a beetle/Ant pattern, or a Grasshopper. This can often entice a brown who is not actively feeding. The alternative to this is to fish nymphs into plunge pools, against banks, and up into logjams. Naked nymping (w/o strike indicator) is recommended as a bobber splashing on water is a sure way to spook a brown.
4) Never cast more than a few times!
Particularly if you are casting to a riser. Make a few good casts. If the Brown does not seem interested, stop immediately! Never cast wildly and repeatedly, as you will spook the Brown and you will most likely not see him again, at least for many hours. Your first cast will always be your best shot. Make sure you make the most of it and put it into good spot.
As a extension of this point, do everything slowly! Take your time. Be patient. These fish don't come easy.
5) Don't be afraid to fish in the Rain
I like fishing for Browns in the rain for two reasons. The first is the BWO mayfly hatch (small dark green mayflies), which corresponds with overcast, rainy whether. The second is the water usually becomes a little murkier, which makes it much easier to move around and cast without spooking the browns.
I love fishing these creeks when the water is slightly off color. As long as the fish can still see a little, streamers will work well. If it is only raining lightly and water is still clear, there is a good chance fish will be feeding on BWO mayflies (which makes it easy to match the hatch). Either way, unless it is heavy, consistent rain and the water is chocolate milk, rainy conditions can give great fishing!
---
I hope that helps you get into some fish! Get out, explore, and don't be afraid to reach out if you need some help getting started.
See ya on the River !